I am SUPER DUPER excited to introduce this weeks Featured Artist... Megan Dendinger owner/designer of Rainbow Dolls! I am completely in LOVE with her dolls!!! Her dolls are unique, and beautiful... each created one of a kind, handcrafted with love and attention to every sweet detail!
Get to know Megan...
What inspires you, how and why did you start doing what you do?
I suppose my children are what inspired me most to start making dolls. I had found the Waldorf way of thinking/schooling and a lot of it made sense to me. I started to collect toys made out of wood instead of plastic. Waldorf Dolls, which are made from only natural materials, fit right in with how we were trying to exclude plastics from our home. I am very hands on with things that I like to create and always love a new project. After purchasing some Waldorf Dolls from a few different makers, the idea of making them myself really appealed to me. I started with my first doll almost a year ago and haven't stopped making them since. I really love making them! Not only are they one of a kind and full of the love I put into each one, but they are made from wonderful materials such as organic thick cotton interlock, stuffed with clean naturally sweet smelling wool, and have the most beautiful hair made from handspun yarns.
Tell us something that no one knows about you.
When I am really angry, I enjoy cleaning aggressively and quickly. It seems to help me calm down and still get things accomplished.
Lol
Who do you admire most?
I truly admire single parents. It has to be so hard to play both roles and still remain a good parent, able to take care of household duties, have a job to pay for things, and still remain sane in the process. I definitely give my props to those single parents out there!
What do you like most about what you do?
That is hard to say. I love the process of picking out different colored yarns and just the right fabrics to match. I love the outcome of how the dolls turn out once they are all done. I think what I like the most though, is seeing the pictures and hearing the stories of the children who have my dolls and how much they love them.
We own one of her adorable creations, Emma is her name, and she is a bit of a show off... camera hog if you will... but she loves to play dress up for us and model our sweet dolly dresses when we have time to create them! :-) Emma is playing dressup with Gracie below! ;-)
Can you tell us one of your "secret" tips…it can be on anything.
I am a licensed cosmetologist and worked in a salon for a few years before having my first child. My secret tip for you is start drying your hair where you have the most difficulties – cowlick, limp hair, etc. If you have a cowlick, brush down as you blow dry there to get the most control of your hair. Do not life your hair – that only aids the cowlick. If you are looking for volume, start where you want it. Start at the root of your hair with a brush and blow dryer by holding your hair up with the brush and blow drying under the hair a few seconds at a time until dry and then smooth out. Hope that made sense.
Anything else you would like to include? A personal message?
I want to thank everyone for their support of Rainbow Dolls and my creativity! I really appreciate being able to share my special one of a kind dolls with you.
Emma showing off again below with Faith...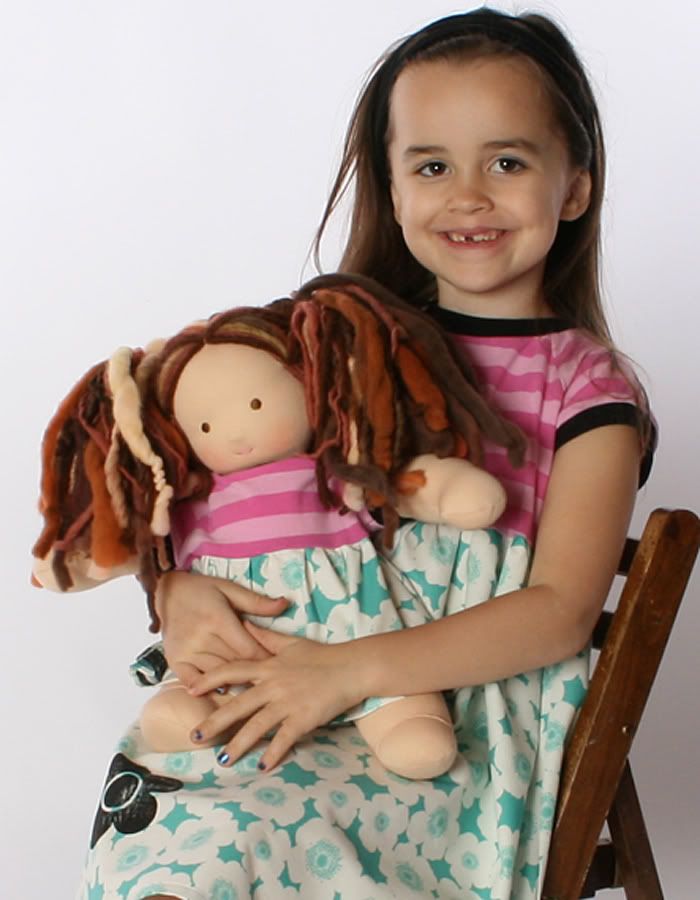 OK... so you know you HAVE to know where to shop, right? Megans shop is here... http://www.rainbowdolls.etsy.com/

... go check out all of the cuteness... she sells out fast though... join her facebook page so that you know when more are available!
Thank you so much Megan! :-) We just LOVE your dolls, and are so glad you joined us! :-)
NOW, how could we show you all of this cuteness and not do a giveaway???

We will be giving away TWO sweet dolly dresses...

(these dresses are available for sale with matching BIG girl dresses at

http://www.etsy.com/shop/TheVinesBranches

as well)

SOOOO...we will be giving away this sweet little dress first...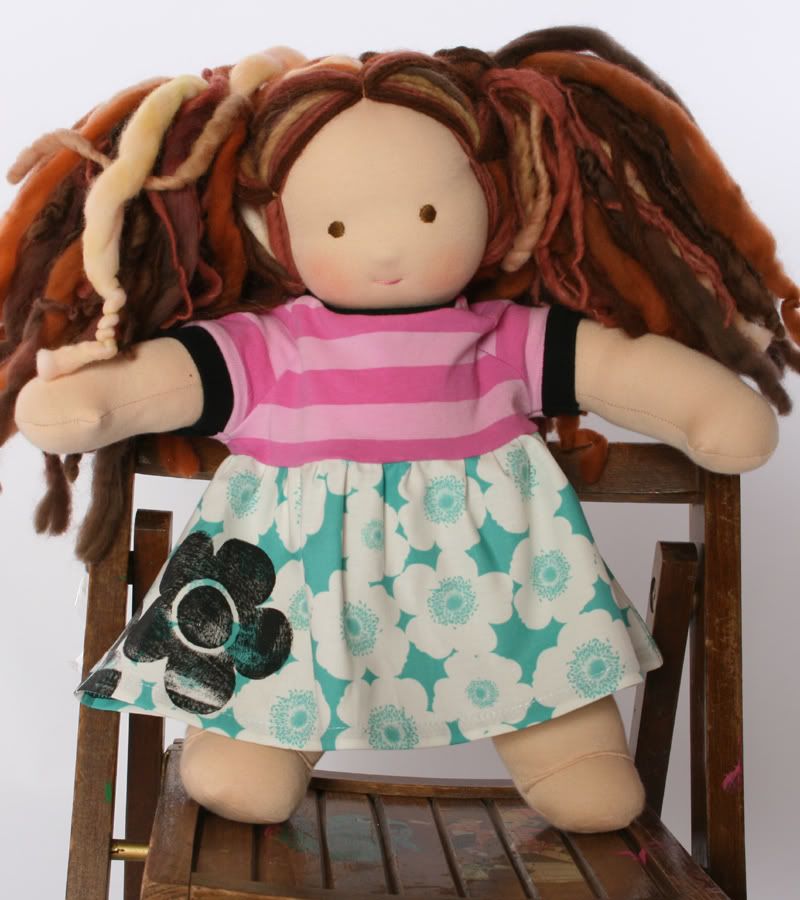 and this is the second giveaway...
How do you enter?? I'm so glad you asked!
You can earn up to 5... FIVE entries!!! (remember you must follow this blog to enter) Here is how...
1. Follow Megan on Facebook (if you already follow that counts too)
2. Follow Karatootie on Facebook (if you already follow that counts too)
3. HEART Megans Etsy shop
4. HEART Karatootie Etsy shop
5. Follow this blog (if you already do that counts too)
Rules... you MUST be a follower of this blog to enter. You must leave each comment separately in order for it to count as more than one entry! :-) Thats it! No shipping fees... giveaway is open for one week! :-)
Blessings & Hugs,
Charity