I just found a new website. It's not new at all, just new to me...and maybe you? With a logo like,
for all who
♥ color,
design seeds
,

already has a check in my book. Because, well, I do love color.
One word....
hooked.
The concept of this beautiful eye candy blog is taking a color palette from lovely images. Not only is it a treat to feast your eyes on God's vast color wheel, but the site is a wonderful source of inspiration.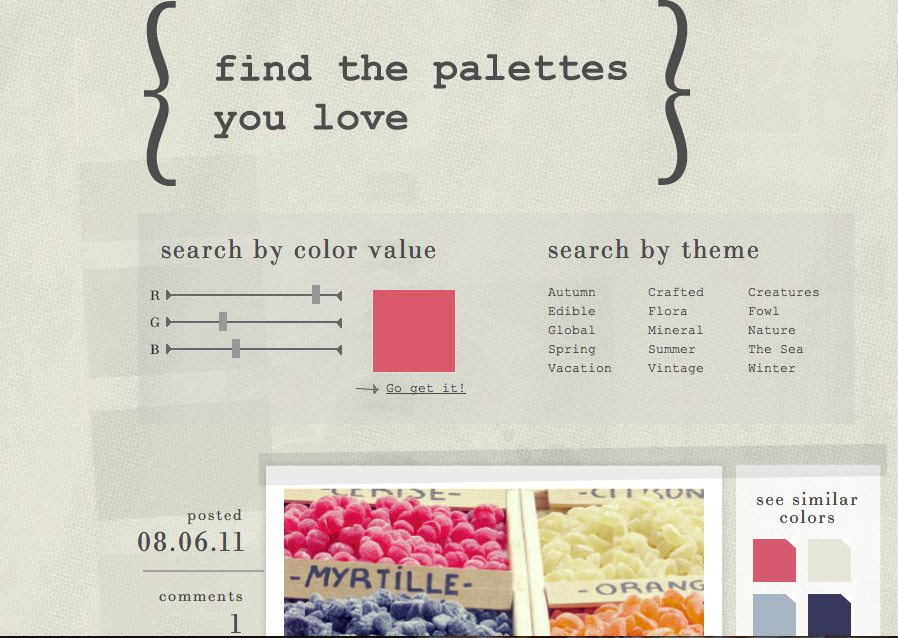 If your brain is anything like mine, it is often on sensory overload. I adore beautiful images. Beautiful colors send me spinning in delight. The downside is, there is no organization. For example, I just began watercolor painting and to me, the hardest part has been coordinating the colors. Sometimes two turquoises should not be seen together and certainly all pinks are not the same :)
The site is very easy to navigate. You can search a palette by adjusting the color values or picking a theme. Here are a few that I loved and wanted to share with you:
Do you have any tips on organizing your artist brain? I can always use more help...so, please share ;)
find me cutting a rug here:
{tuesday} not just a housewife, funky polkadot giraffe, bebetsy, brucrew life, lady bug blessings, nap-time creations, chef in training, cozy little house, homework, rustic pig
{wednesday} made in a day, trendy treehouse, lil' luna, someday crafts, high heels and grills, sew much ado, 733, free pretty things for you, night owl crafting, i bequeath love
{thursday} house of hepworths, somewhat simple, katies nesting, 36th ave, mandatory mooch, artsy-fartsy, what's cooking, easycliving, katherine's corner, thrifty thursday, beyond the picket fence
{friday} tatertots and jello, whipperberry, thirty handmade, ladybird lane, simply sweet, simply designing, the answer is chocolate, happy and blessed home, kitchen fun
{saturday} the gingerbread blog, too much time, a little claireification,