SNOW DAY, SNOW DAY!!! :-)

School was cancelled!!!! I LOVE it when my little ones are all home with me! :-) Something you probably do not know about me is that I have homeschooled until this year... we had a lot going on and long story short after praying about it we decided public school was best for this year. And God has been amazing, and it has been really really good... however, we are going back to homeschooling next year! :-) YEY! But, I'm getting off subject (BIG suprise)! So, here is what it looked like outside (and nowhere near done snowing)...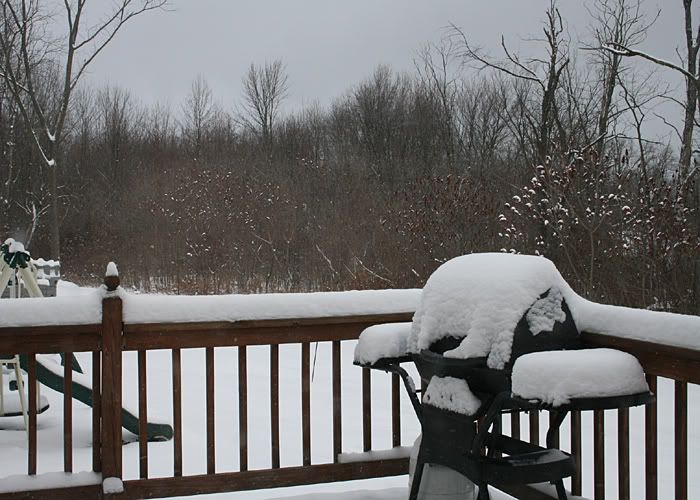 And here is what we did about it...
We made dessert for BREAKFAST!!! :-)

We had some fun in the kitchen together and came up with this... no pretty fine china... come on, with 5 kids all under 8 years old your lucky it's not a paper plate! ;-)
YUM, we all LOVED it... I'm talking all of my little ones had a second plate!!! It's not IHOP, but we're loving it! Here is the recipe... adapted from wholefoodsmarket.com
Serves 12...
ya, right!?
Use whatever summer fruits are at their peak of sweetness to make these luscious shortcakes.
Ingredients
2 cups all-purpose flour -
I milled a light wheat grain into flour for extra nutrition... yes, I'm serious!
1/4 cup sugar -
I used sucanat
1 tablespoon baking powder
1/2 teaspoon baking soda
1/2 teaspoon salt
1 cup buttermilk -
didnt have any, just mixed a T. of yogurt in with milk.
3 tablespoons canola oil -
used coconut oil
1 tablespoon vanilla extract
1 quart strawberries, hulled and sliced _
I skipped this and used a can of pie filling.
1 quart mixed berries
2 tablespoons pure maple syrup
1 cup chilled heavy cream - used can of whip cream!
Method
Preheat oven to 350°F. Whisk together flour, sugar, baking powder, baking soda and salt together in a bowl. Add buttermilk, oil and vanilla; mix with a fork until just combined. Drop heaping tablespoons of dough onto lightly oiled baking sheets to form 12 shortcakes and bake until light golden brown and cooked through, 12 to 14 minutes. -
this was more like 20ish min.

In a large bowl, toss berries with maple syrup and set aside. Whip cream until it holds soft peaks. Halve warm shortcakes and arrange on plates. Spoon berries and their juices onto shortcake bottoms. Dollop with whipped cream, then replace shortcake tops and serve.
This is much healthier, but we cheated here and used a can of blueberry pie filling and whipped cream! Not such a healthy choice on top of my healthy shortcakes... but they were sure yummy! :-)
I hope you try it... you'll love it!! :-) Have a wonderful day!!! Praying for more snow tomorrow!!! :-)