Ok, soooooooo... this week I am in charge of the challenge...he he!!!!! This is what Ingrid will find in her mail box tomorrow...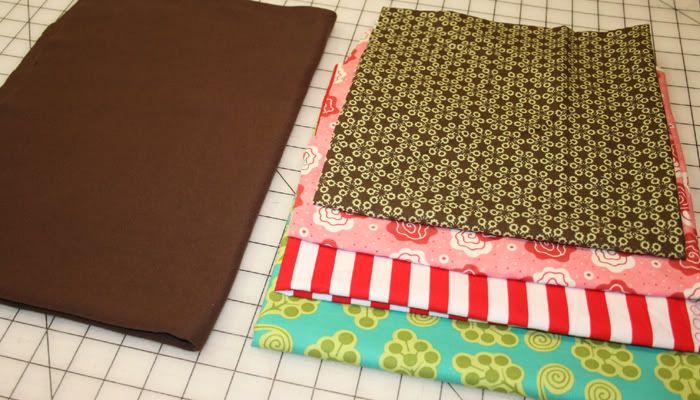 Now, the rules of engagement... (I get to make these up too) waaaaahhhhh hahahaha!!!!

(That's my mad scientist laugh)

! OK, so we had previously decided that when doing a challenge like this we will send eachother a minimum of three yards to work with.... BUT, they dont have to be a whole entire yards each... so, we have one yard of one fabric and the rest are all half yards in this lovely assortment... all cotton but one... the brown is a knit! How about that assortment of fabrics!??? Oh, and I let my 4 year old pick one on her own too! Thank you miss Gracie for the lovely red and pink flowered choice! :-) Ahem.... the rules... we can add ONE other fabric from our own stash and ONE trim. Not a requirement, just an option!
Now, you might be saying... "I thought Ingrid was your FRIEND"??? What??? Of course... I LOVE her bunches... Listen, I DO get the same exact set of fabris to work with too!!!
SOOOOO, stay tuned on Thursday for the

big reveal

... you KNOW you have to come back to see what we created out of that crazy mix!!!! :-) And if you missed last weeks challenge go back and check it out!!! FUN stuff!!!! :-)
Blessings,
Charity <><