We would like to introduce a
FABULOUS
designer, and super duper sweet women...
Welcome

Jill of Trendy*Babies*Boutique!!!
Jill designs and sells her adorable creations in custom sizes! We know you will love her and her amazing work as much as we do!!! :-)
Guess what else???

Jill is being too sweet...
she is going to give one of our sweet readers a
custom sized pair of leggings (as pictured below)!!!
The winner of this giveaway will have a few fabrics and colors to choose from in size choosen! THANK YOU BUNCHES JILL!!! Details below!
Jill is Name

~ Jill Galano
Name of business

~ Trendy*Babies*Boutique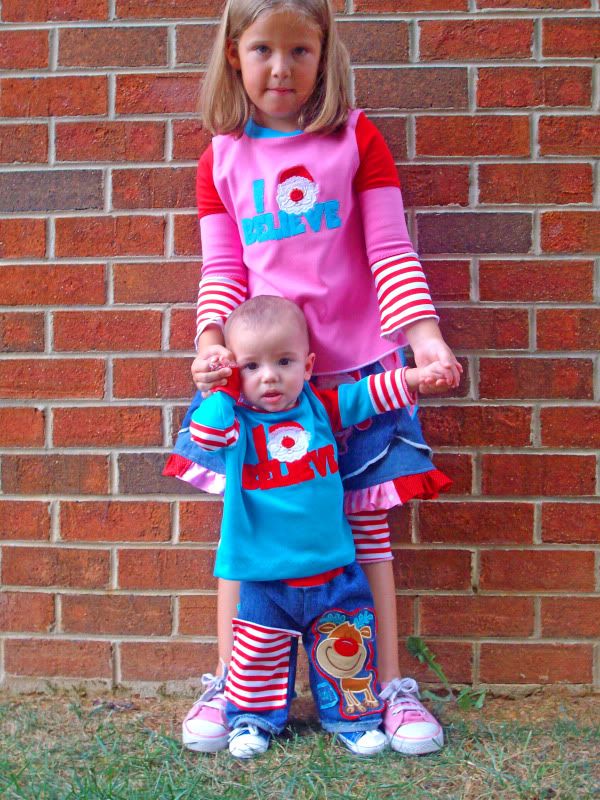 What are you selling right now?
Christmas

sets :)
What inspires you?
I get my inspiration in many different ways, from my children, from fun fabrics, patterns, and just being a kid at heart myself and letting that come to life in my designs :)
Tell us something that no one knows about you.
I am a self-taught seamstress, but it was actually my husband who caught onto to sewing first and taught me my very first steps in stitching!
Who do you admire most?
I don't think I have just one person.. in the boutique world, there are many fabulous designers I admire a ton, and just love that we've been given such an amazing talent from the Lord, that allows us not only to make such cute clothing, but to bless others with our creativity and work!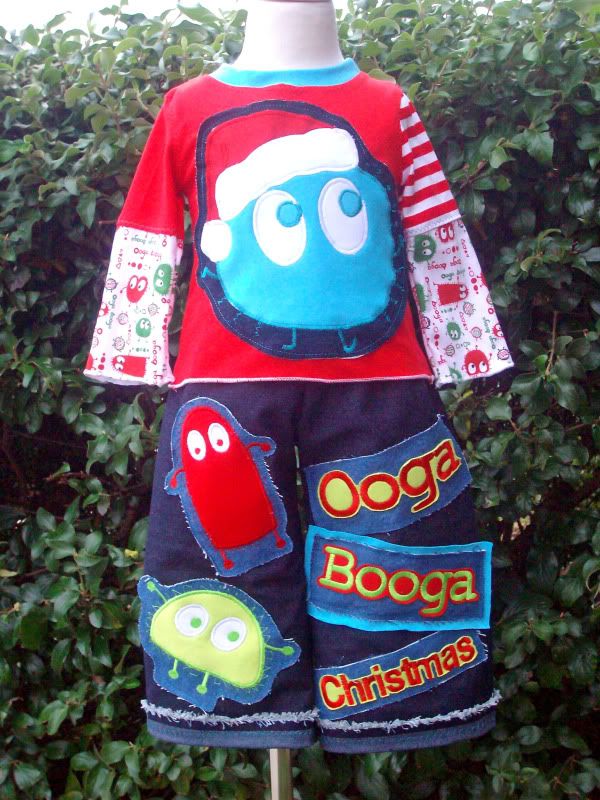 What do you like most about what you do?
I LOVE LOVE LOVE designing new sets, and seeing something I dreamed up come to life and turn out just how I pictured. Also, being able to be a stay at home Mom to my kids, and also work a bit to bring in some extra money~ this is such a blessing!
Are you married?
yes, to the sweetest man in the world!
Have kids?

Yes, we have 2 kiddos! Kaitlyn, who is 6 1/2 and Greyson, our Valentine Baby who will be 9 months on the 14th.
Can you tell us one of your secret tips???
Yes, for handmade applique I use a canvas type fabric that goes under all of my appliques, so you don't see the fabric through the applique, once you put it on the dress, skirt, top or pants!
Anything else you would like to share?
I just wanted to thank you both Charity and Ingrid, Love you girls!!! And thank all my buyers for blessing our family, and thank all the amazing designer friends I have made along the way for your love, support and friendship!
Thank you SO much Jill, we love you!!! :-)
You have a few options to be entered in Jill's SWEET giveaway. Simply, be a follower of this blog, leave a comment here, and become our friend on facebook! Each of those will earn you an entry! :-)
**This giveaway is open for one week! :-)**